Targeted Treatments: From good skin to Great Skin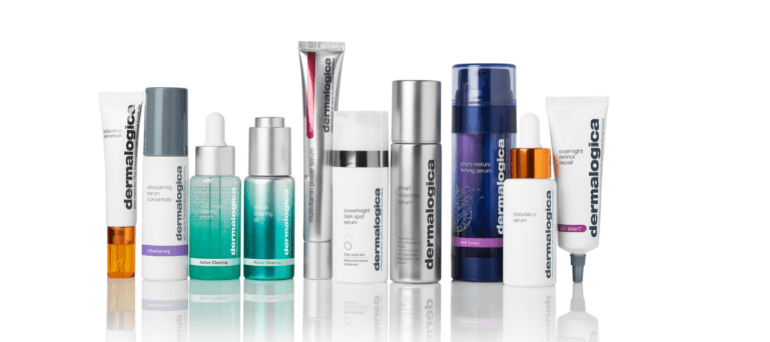 Think serums, boosters, complexes. These all come under the umbrella of 'targeted treatments'. They're your fast acting, hard hitting, skin problem solvers. These problems may vary from breakouts along the jaw or oiliness in the T-Zone, to signs of premature ageing and pigmentation patches, or dehydration and sensitivity.
A Constantly Changing Skin
Our skin is fascinating. It's our largest and fastest growing organ, and it's responsible for protecting against bacteria and defending against the elements. With a constantly changing environment, we have a constantly changing skin. And this is further amplified by other daily lifestyle factors such as our diet, hormonal fluctuations and stress levels.
Our skin acts as a barometer for the multiple external and internal changes we experience every day. For example, a cool winter climate can lead to dehydration and sensitivity; air pollution and UV exposure will speed up the ageing process, and high stress levels can cause an eruption of breakouts on the lower half of the face.
Targeted Treatments to the Rescue
To keep our skin looking and feeling its very best, we need to be armed and ready with targeted treatments that'll take on these skin issues as and when they strike. If they're not part of your skincare arsenal, this can be detrimental to healthy skin - the longer these issues linger, the more damage is caused. For example, if a breakout is left untreated, the infection will worsen and you're more likely to see scaring. Or, if we don't nip dehydration in the bud, this can go multiple ways. Our skin may respond by producing extra oil, causing our pores to become clogged, and/or our skin can become red and irritated. Having a handful of targeted treatments not only keeps healthy skin in check, but is a sure way to turn up the glow factor.
Fast and Flexible
Targeted treatments are gamechangers in the world of skincare. Containing advanced cosmeceutical ingredients, these flexible skin saviours work hard and they work fast. Sometimes we experience a skin issue all over our face, but it may just be specific areas of our skin that are prone to specific conditions. Take sensitivity; this typically shows up on the cheeks, whereas dehydration is most common on the forehead, and as adults, breakouts tend to show up on the chin and jaw line. The beauty of target treatments lies in their flexibility. They can be adapted to whatever the skin requires - use them daily, weekly, monthly, on a particular area, or all over.
Most of us are prone to specific ongoing skin changes based on our lifestyle and unique genetic makeup - these would warrant regular, daily use of a targeted treatment. We know that dehydration, a common skin complaint that many of us struggle with, can be easily controlled by incorporating a hydrating serum into your daily regimen. This will keep moisture levels topped up to prevent the tightening, cracking and flaking. For someone entering their 30's and beyond, using a preventive night time treatment will help to slow down the onset of lines and wrinkles.
So, some targeted treatments may be regular fixtures in our skincare regimens and we may pick up others, such as breakout treatments, when our skin needs them. We may also change from lighter to heavier depending on the seasons and our climate. Achieving healthy skin comes down to being flexible and being able to adapt to the skins needs, which is why targeted treatments are so effective.
Using Targeted Treatments with Your Other Skincare
Targeted treatments are applied after your toner and eye treatments. As a rule of thumb, if using multiple targeted treatments, apply your lightest first. Also, be mindful that if your using a breakout treatment, always apply this first and patchwork other targeted treatments around your breakouts for maximum results. What's great about many targeted treatments is that they can be patchworked or mixed in with your moisturisers, allowing for even greater flexibility.
Dermalogica's Top Five
With an extensive range of target treatments, Dermalogica has you covered for every possible skin issue. Here's Dermalogica top five, hero targeted treatments:
Skin Hydrating Booster: An ultra-light, oil free, tall glass of water for you skin featuring Hyaluronic Acid to plump, deeply moisturise and minimise fine lines. Can be used directly on areas of dehydration, all over the face, or even added to your moisturiser to boost its hydrating properties.
Phyto Replenish Oil: A feather light, antioxidant rich, hydrating facial oil loaded with powerful plant based ingredients. If you're after dewy, luminous skin, this is the targeted treatment for you.

Can be used alone, mixed in with your moisturiser, or even add a few drops into your primer or foundation for all day dewy skin!
Barrier Defense Booster:

A blend of soothing oat oil, hydrating squalene and barrier restoring Triple Defense Complex, deeply soothe, nourish and moisturise a sensitised, depleted and inflamed skin. Can be used alone or mixed in with your moisturiser.
C-12 Pure Bright Serum: This potent, cosmeceutical rich, silky serum is the go-to for treating and preventing hyperpigmentation and uneven skin tone. Either apply to areas of pigmentation or all over, allow to dry and follow with your moisturiser.
Targeted treatments take your skincare routine from good to great. If you're new to target treatments, begin with treating your most common skin challenge and then progress from there. It's the most exciting, powerful and results driven step in your skincare, setting you up for healthy skin for life.
---