New Awaken Peptide Eye Gel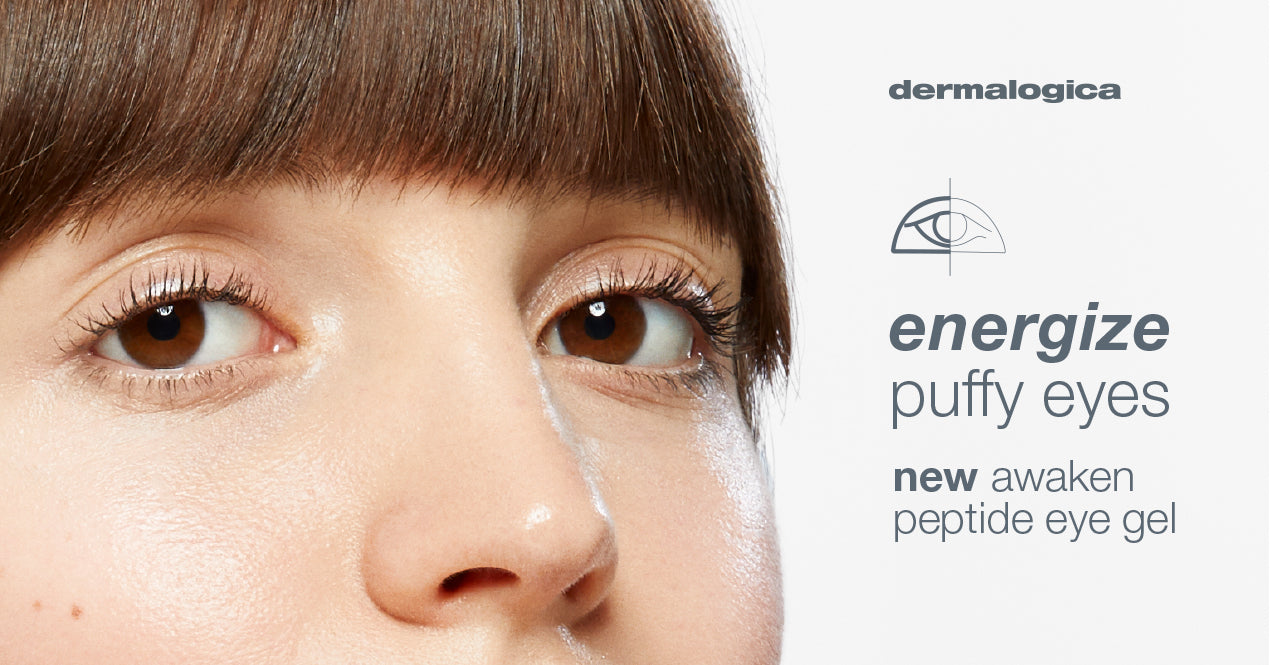 DISCOVER AWAKEN PEPTIDE EYE GEL
Whether caused by lack of sleep, allergies, aging or salty food – swollen, tired or puffy eyes can affect anyone. And while there's a range of reasons why we might have swollen undereyes, one thing is for sure – we're tired of looking tired.
Dermalogica's new Awaken Peptide Eye Gel utilizes powerful firming peptides and plant-derived technology to reduce the appearance of puffiness and fine lines. This weightless, hydrating, depuffing eye gel firms and smooths skin texture for a more energized appearance. 
the science behind puffy eyes
There are a plethora of intrinsic and extrinsic factors that cause puffy, swollen, or tired eyes. Here are some of the most common reasons behind puffy eyes.
UV exposure: sun exposure is one of the most detrimental environmental factors responsible for a range of skin conditions and concerns.
lack of sleep: the accumulation of excess fluid in the tissue surrounding our upper eyelids, lower eyelids or both can cause morning puffiness.
allergies: natural eye irritants such as pollen and pet dander can produce itching, swelling, and redness in a matter of minutes, while an increase in histamine triggers fluid retention.
diet: salty foods that are high in sodium can make your body retain water.
certain lifestyle factors: habits like smoking cigarettes and alcohol consumption can cause fluids to collect beneath the eyes.
screen time: constant eye strain, sometimes referred to as "computer face" is a common cause behind fine lines around the eyes.
aging: the skin and muscles surrounding the eyes tend to weaken with age.
look more well-rested in 10 minutes

Awaken Peptide Eye Gel quickly reduces the appearance of puffiness and wrinkles, while continuing to diminish their appearance over time. 
ingredients
Tetrapeptides and soothing Rosemary Leaf Extract: a highly active blend that minimises the appearance of puffiness and fine lines. 
Bioengineered Succinic Acid blend:
 supports a more radiant appearance.
Voandzia Subterranea Seed Extract: leaves skin smoother and more luminous.
Caffeine:
 

known to reduce the appearance of puffiness.
---